3D MASTER trên các kênh công nghệ nổi tiếng thế giới,
PLANE CRASH SURVIVOR RECEIVES BIONIC 3D PRINTED PROSTHETIC HAND
Former Vietnamese military pilot, Dinh Van Duong recently received bionic 3D printed hands from local 3D printer and software provider, 3D Master Company.
Duong is the sole survivor of an MI-171 helicopter crash, that took the lives of 20 of his fellow soldiers. After 24 complex surgeries, Duong lost all of his limbs and became wheelchair-bound.
In August 2017, upon hearing his tragic story, actor and social activist MC Phan Anh visited wounded soldier, Duong in Hanoi, Vietnam with the promise of getting him functional hands. A month later, Phan Anh visited 3D Master Company, who were eager to sponsor the specialized creation of artificial 3D hands.
Following further months of development involving many iterations and modifications, Phan Anh was able to present Duong with his new hands.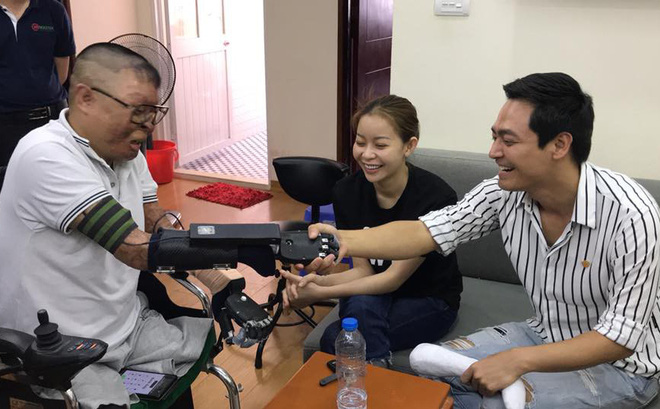 Dinh Van Duong (left) receives 3D printed bionic hands from MC Phan Anh (right). Photo via Soha.
Rehabilitation through 3D innovation
3D Master Company began to develop a bionic prosthesis that would return some mobility in his upper body without causing the need for further amputation. To guarantee a comfortable fit, they began by scanning and converting Duong's arms into a 3D file, then 3D printed the parts with a Zortrax M200 3D printer.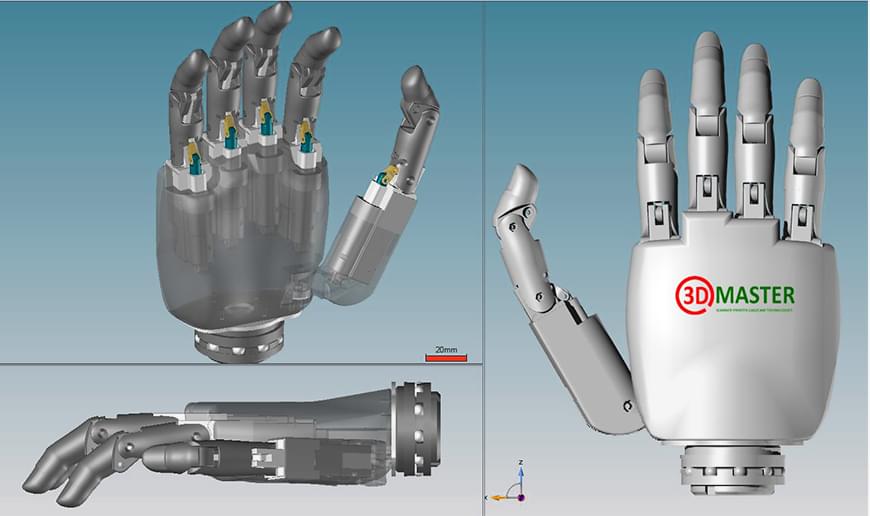 Duong's 3D printed hand model. Image via 3D Master Company.
The 3D Master Company team used Zortrax's Z-ULTRAT filament to create strong and lightweight fingers for the bionic hand. The fingers were then covered with silicon after 3D printing to increase frictional forces when the hand is holding objects. Each finger is controlled by separate motors for optimal mobility.
The bionic arms are complete with circuitry that allows Duong to control their movement. A nerve impulse from the brain is essentially an electric signal that can be detected by sensors. After conversion by a circuit board, the prosthesis responds to Duong's commands with mechanical movement.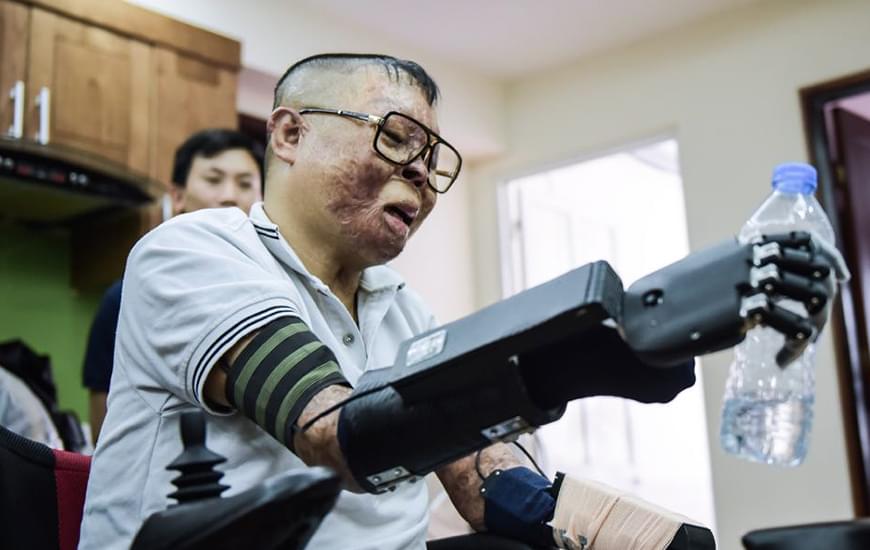 Duong picks up a water bottle using 3D printed bionic arm. Photo via Zortrax.
"With this bionic hand, I can hold a bottle of water and pour water into a cup. The first time I used this hand, it was difficult to control it using my thoughts. After being instructed by technicians of 3D Master Company, I can use it with ease and I understand the basic working principle of this prosthetic hand," Duong said.
The production of the bionic hands cost 40% less than that of regular prostheses thanks to the innovation of 3D Master Company.
3D printing is increasingly used for medical devices. Glaze Prosthetics, a Polish startup offering customized 3D printed prosthetics and who were recently nominated for an award for start-up of the year at the 2018 3D Printing Industry Awards, is also using 3D printing to create a functional replable arm system.
Impressed by the results, Phan Anh has requested that 3D Master Company now produce Duong's feet as he now wishes to gain more of his independence through 3D printed bionic legs.
"Phan Anh is brave and dares to cope with public opinion to do good for the people," said Duong.
Phan Anh stated, "In my opinion, we must absolutely respect the appearance of others, people [who] denigrate the body of another person is deserving of condemnation."
Nguyen Van Cuong, director of 3D Master Company plans to produce 500 more bionic hands using the same process at a projected cost of $3500 per hand. This will also help others afflicted with immobility.
Going global with 3D bionics
Collaborations from the healthcare sector and 3D printed bionics have proved beneficial within developing countries. In 2017, the Enable Community Foundation(ECF) used 3D printing to create prosthetics for amputees in Haiti. The non-profit group aimed to combat the large number of upper-limb (UL) amputees in the country.
Similarly, Open Bionics, UK based startup company developing low-cost bionic hands, conducted a study in 2017 to assess the advantages of using 3D printed medical devices on amputees. This study has been met with positive feedback for the wider use of 3D printed medical devices.
For more stories on the latest medical developments in 3D Printing subscribe to the 3D Printing Industry newsletter, follow us on Twitter and like us on Facebook.
Want to advance your career in additive manufacturing? Sign up to 3D Printing Jobshere.
Featured image shows Duong's 3D printed hand model. Image via Zortrax
https://3dprintingindustry.com/news/bionic-3d-printed-prosthetic-hand-133793/
https://3dprint.com/209418/pilot-3d-printed-bionic-hands/
https://www.3ders.org/articles/20180424-vietnamese-pilot-receives-3d-printed-bionic-hand-after-aircraft-crash.html
https://www.azom.com/article.aspx?ArticleID=15357
http://microfabricator.com/articles/view/id/5b084fe23d2d2eeb4f8b4567/plane-crash-survivor-receives-bionic-3d-printed-prosthetic-hand