Consulting project providing equipment and high-tech Scan 3D at Ebara VN,
EBARA is one of the world's leading manufacturers of hydraulic machinery with more than 100 years of experience and has been a pioneer in the development of many types of pumps.
EBARA Vietnam Co., Ltd. (EVPC) is a large-scale high-pressure pump manufacturer and a major player in the EBARA Group in South East Asia.
In line with EBARA's business philosophy, we strive to contribute to the growth of the Vietnamese society by providing leading pump products along with systems engineering and related services. to the "water" industry in the best way. At the same time, we also offer EBARA Vietnam products to the global market.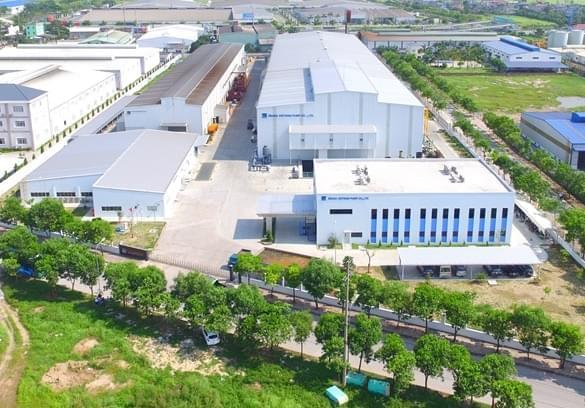 General information about the company:

- EVPC has its head office & factory in Hai Duong province, its branch in Hanoi and its representative office in Ho Chi Minh City.
- The EVPC plant covers an area of ​​2.9 ha, including a full range of pump production processes from design, molding, casting, welding, fabrication, assembly to testing and testing. pump.
- EVPC factory can supply all types of pumps with the flow from 200 to 50,000m / h, the total pressure from 2 to 300m.
- The EVPC factory provides all types of EBARA pumps for the Vietnamese market through its distribution and distribution system at the EVPC branch in Hanoi and its representative office in Ho Chi Minh City.

EBARA Vietnam Pumps Ltd. (hereinafter referred to as "EVPC") is a member of the EBARA Group, one of the leading companies in the field of industrial equipment in Japan.
In 1995, EBARA formed the EBARA Hai Duong Pumps Ltd. (a joint venture between EBARA and the Hai Duong Pumps Company, later known as "EHD") in Hai Duong Province, Vietnam. In 2011, EHD became the wholly-owned subsidiary of EBARA and later changed its name to "EVPC."
In order to meet the needs of Vietnam and Southeast Asia, EBARA has decided to invest in a new factory. In 2013, EVPC completed construction of the foundry for Phase 1 and commenced commercial operations. In April 2016, EVPC completed the construction of the second phase and went into operation in May 2016.
EVPC has maintained and developed its business for more than 20 years. I would like to express my sincere gratitude to domestic and foreign customers, partners, suppliers as well as relevant agencies of Hai Duong province for their cooperation and support. EVPC support.
EVPC has two main tasks:
First, EVPC supplies a large range of pumps manufactured at the EVPC plant in Hai Duong Province (hereinafter referred to as "our factory") and distributed to the market. Worldwide, such as Vietnam, Southeast Asia, Europe, Africa and America, acts as the "EBARA Group's strategic manufacturing plant."
The outstanding feature of our factory is "integrated factory", meaning that our factory can produce products from raw materials, through mechanical processing, assembly and testing. There is no pump factory with a foundry and a steel sheet mill in the same premises, including EBARA's subsidiaries.
With "Integrated Manufacturing" and not dependent on outside companies, we are able to manage and control quality, production schedules and product value, which in turn enhances Competition of the EBARA brand.
In addition, all of our technical standards / designs, production and quality management systems are in strict compliance with the policies and standards of the Futtsu factory, the EBARA in Japan, under the supervision of experienced Japanese experts.
We are committed to the products manufactured in our factory of the same quality as those produced at the EBARA Group's Futtsu factory.
We will always try to improve the quality as well as production ability to bring Vietnam's products to the global market.

Secondly, EVPC plans to become a "one stop shop" with pump products and services for its customers in Vietnam. EBARA can contribute to the development of Vietnam's society and infrastructure.
EVPC will always strive to satisfy its customers by providing quality EBARA products, quick after-sales service and technical solutions through their branches in Hanoi and HCMC. Ho Chi Minh City with the spirit of "Netsu to Makoto" (passion and dedication).
Bunshi Ono - General Director of
EBARA Vietnam Pump Company
With the prestige of consulting and providing the leading 3D scanning technology in Vietnam, 3D MASTER Co., Ltd was honored to be selected as the strategic partner by EBARA Vietnam Co., Ltd. High demand of Creaform, application in 3D digitization and QC of the pump products of the factory ...
Demand:
Fast and accurate sampling at any place at the site and factory,
Measurement and QC. pumping all sizes serves the maintenance, restoration sample,
Solution:
Machine HandyScan 700 / Creaform / Canada
Hand delivered 3D scanners at EBARA Vietnam Pump Company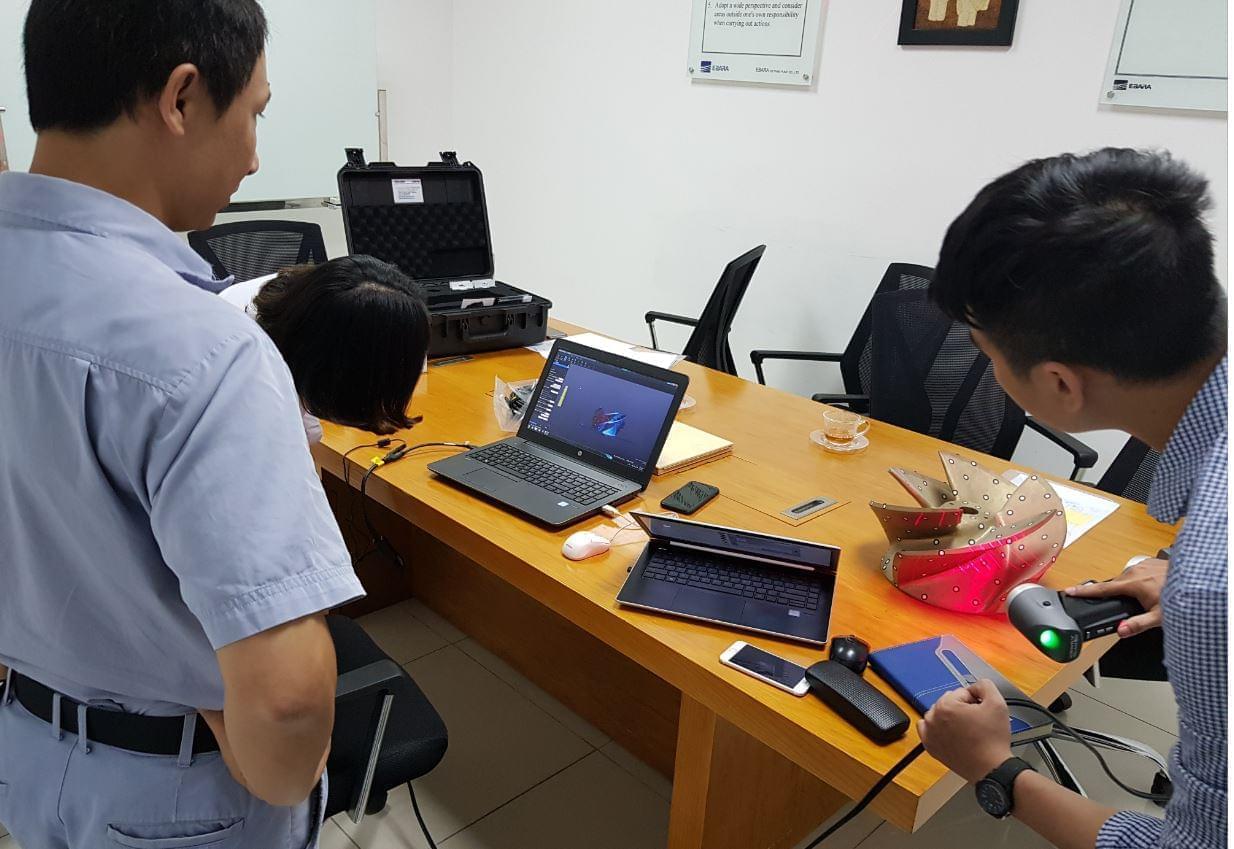 Training guide on transfer of 3D scanner technology at EBARA Vietnam Pump Company
3D MASTER CO., LTD is pleased to serve you!