CREAFORM HANDYSCAN 3D (CANADA)
New ! Creaform HandySCAN 700 3D scanners
The Creaform HandySCAN 700 is the latest addition in the new generation of 3D handheld scanners by Creaform3D. This device can easily scan any type of physical object and provide the most reliable and effective results. The new generation scanners have undergone a complete re-engineering process, and as a result, they now are capable of operating with more efficiency. They have become more portable and faster at performing accurate, high resolution scans.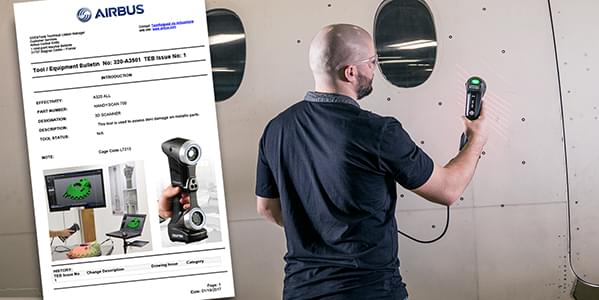 TECHNICAL SPECIFICATIONS
Specs

HandySCAN 300 HandySCAN 700

Weight

0.85 kg
(1.9 lbs.)

Dimensions

77 x 122 x 294 mm
(3.0 x 4.8 x 11.6 in.)

Measurement Rate

205,000 measurements/s
480,000 measurements/s

Scanning Area

225 x 250 mm
(8.8 x 9.8 in.)
275 x 250 mm
(10.8 x 9.8 in.)

Light Source

3 laser crosses
7 laser crosses
(+1 extra line)

Laser Class

2M (eye-safe)

Resolution

0.100 mm
(0.0039 in.)
0.050 mm
(0.0020 in.)
Accuracy
Up to 0.040 mm
(0.0016 in.)
Up to 0.030 mm
(0.0012 in.)
Volumetric Accuracy
0.020 mm + 0.100 mm/m
(0.0008 in. + 0.0012 in./ft)
0.020 mm + 0.060 mm/m
(0.0008 in. + 0.0007 in./ft)
Volumetric Accuracy (With MaxSHOT 3D)
0.020 mm + 0.025 mm/m (0.0008 in. + 0.0003 in./ft)
Stand-Off Distance
300 mm (11.8 in.)
Depth-Of-Field
250 mm (9.8 in.)
Part Size Range (Recommended)
0.1 – 4 m (0.3 – 13 ft)
Software
VXelements
Output Format
.dae, .fbx, .ma, .obj, .ply, .stl, .txt, .wrl, .x3d, .x3dz, .zpr
Compatible Software
3D Systems (Geomagic® Solutions), InnovMetric Software (PolyWorks), Dassault Systèmes (CATIA V5 and SolidWorks), PTC (Pro/ENGINEER), Siemens (NX and Solid Edge), Autodesk (Inventor, Alias, 3ds Max, Maya, Softimage).
Connection Standard
1 x USB 3.0
Operating Temperature Range
5-40 °C (41-104 °F)
Operating humidity Range (Non-Condensing)

10-90%
Video:
Review
The Creaform HandySCAN 700 is the latest addition in the new generation of 3D handheld scanners manufactured by Creaform3D. It is one of the most popular 3D scanners used by the product development professionals and engineers. This device can easily scan any type of physical object and provide the most reliable and effective results. The new generation scanners have undergone a complete re-engineering process, and as a result, they now are capable of operating with more efficiency. They have become more portable and faster at performing accurate, high resolution scans.
Today's industries require precise and speedy production. Creaform's HandySCAN 700 comes in handy in these situations, thanks to its expertise in metrology and 3D technologies. It is capable of assisting in the design, development and quality control processes. The experienced metrology professionals of Creaform used their expertise in creating the HandySCAN 700. Therefore, this device can be used for critical tasks like quality control, dimensional inspection, etc. Its powerful features, like non-contact metrology and independent assessment, will make inspection in controlled environments easier than before. It is also possible to perform inspections by using the laser tracker. The 3D scanner will help you in optimizing the engineering time for product development by providing digital model of designs, overall dimensions or as-built. Detailed, accurate data acquisition in large and complex areas will reduce production costs significantly. The HandySCAN 700 comes with the shortest possible delay and minimal intervention time, which is very useful for getting fast outputs.

In order to ensure proper assembly in manufacturing mechanical parts, final geometry is a crucial factor. In production, losing accuracy can result in a significant amount of financial losses. Therefore, it is very important to use the best and most reliable instruments. With an impressive accuracy rate of up to 0.0012 inch (0.030 mm), the HandySCAN 700 could be of great assistance to you in this regard. It can validate parts, ensure proper assembly and even make corrections before final delivery. Its quick diagnosis system can detect problems including deformation, heat stress, machining defect, displaced parts, etc. It is possible to adjust the templates for quality control, production or assembly, and if you want, it will provide you with customized deviation reports as well.
By using the HandySCAN 700, you can automate the inspection process on production and assembly lines. Additionally, Creaform3D is capable of integrating other technologies with the scanner and providing necessary guidance services. The company offers personalized software solutions according to the clients' needs. The personalization includes automatic alignment, custom alerts, visual user interface, operator guidance, etc. These additional features can ensure a detailed but flexible inspection, and with their help, you can take measurements of a moving object, get high accuracy rates in unstable environments, automate result display process, develop specific templates and perform lots of other custom tasks.
The HandySCAN 700 is also used in large, dynamic fields like power generation. As power generation projects usually have tight schedules, the 3D scanner can quickly produce necessary scans and provide crucial information instantly. The 3D measurement technology in the scanner allows it to measure the diaphragm positions precisely and helps in aligning them properly. The scanner is also used to obtain the geometry and specifications of the diaphragm, so that retrofitting could be done in a short period of time. Scanning the vane phases and the turbine shaft makes sure that they will work perfectly in final assembly.
The HandySCAN 700 is perfect for use in large-scale civil structures, too. With time, these structures experience wear and lose efficiency. In order to ensure their maximum performance and proper integrity, these structures need regular inspection. Maintenance engineers need information about any possible structural movements so they can take pre-emptive measures. The HandySCAN 700 can be used in these scenarios to acquire volumes of data and to allow multiple teams to work with the data simultaneously. With a blazing fast measurement rate of 480,000 measures per second, the scanner can significantly reduce the data collection time. It comes with seven laser crosses, which means it is capable of scanning the tiniest imperfections and deformations.
The HandySCAN 700 can also be useful in manufacturing marine equipment. Necessary time for developing naval products can be optimized by using representative digital models created by this 3D scanner. Ship owners need to comply with certain regulations and do buoyancy studies in order to get the necessary rights and certificates. This process can be facilitated by acquiring the ship's measurement data via a scanner like the HandySCAN 700. The scanned data can be converted to 2D vertical sections, imported into the popular CAD software and submitted to maritime authorities. Marine vessels and equipment also tend to corrode, as they remain underwater most of the time. Hidden heavy corrosion could be very dangerous, but is possible to identify any such failure by using the scan data in finite element analysis and real break tests. By analyzing this data, it is possible to prevent mechanical failures before they happen.
The seemingly limitless applications that are possible with the Creaform HandySCAN 700, as well as its rich feature set and high quality results, warrants placement of this 3D scanner at the top of our list best 3D scanners over $50,000.
Creaform HandySCAN 3D Scanner Now Certified by Airbus

Metrology-grade 3D laser scanner is now recognized in the Airbus Technical Equipment Manual (TEM)

Lévis, Québec – Creaform, the worldwide leader in portabale 3D measurement solution and engineering service, announced today that its flagship metrology-grade portable 3D scanner, the HandySCAN 3D, has been certified by Airbus and will be added to the company's next Technical Equipment Manual (TEM) release.

This certification comes following the recognition of HandySCAN 3D's specifications by the French National Laboratory for Metrology & Testing (LNE). Combined with Creaform's powerful and easy-to-use VXelements software, the scanner can reduce measurement times by up to 80% compared traditional methods.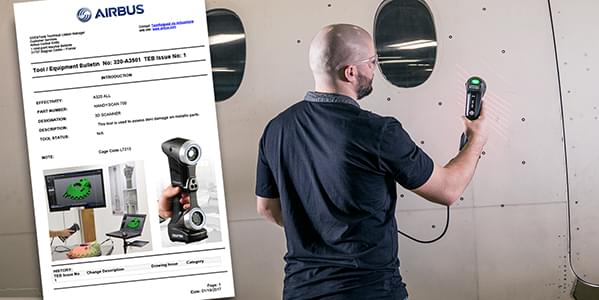 • Metrology-grade measurements for aircraft maintenance: Users can digitize dent damage on metallic parts with the accuracy of up to 0.030 mm (0.0012 in.) and a resolution of up to 0.050 mm (0.002 in.) with high repeatability and traceable certificate.

• Intuitive pass/fail testing: With its intuitive design and real-time software visualization, the 3D scanner ensures ultra-short learning curves so operators can get the critical information they need to regardless of their experience levels. All they have to do is point and shoot!

• Real-time visualization and portability: Because it is so light and small, it can be used in any work environment, such as a hangar or outdoors, as it adapts to ambient and tarmac lighting. Users can easily perform 3D surface inspection of any part of an aircraft—including on and under wings.

"This certification by an industry leader like Airbus symbolizes Creaform's commitment to helping the aerospace as much as the automotive industries address their high-level of GD&T (Geometric Dimensioning and Tolerancing) requirements," said Jérôme-Alexandre Lavoie, Product Manager at Creaform. "With this certification, more and more industry players are turning to Creaform technologies to facilitate and speed up their 3D measurement processes to carry out accurate assessments of aircraft mechanical damage. Our goal is to provide user-friendly and highly advanced solutions to get airplanes back in the skies faster and enable airlines to slash the high costs associated with grounded aircraft."

Creaform HandySCAN 3D scanners will soon be listed in the Airbus Technical Equipment Manual (TEM) which is referenced in the company's Structure Repair Manual (SRM) and will apply to Airbus A320, A330/A340, A380, A300/A310 models. In the meantime, quality control engineers and MRO operators looking to improve their turnaround times and profitability can contact Creaform to find out more about the solution.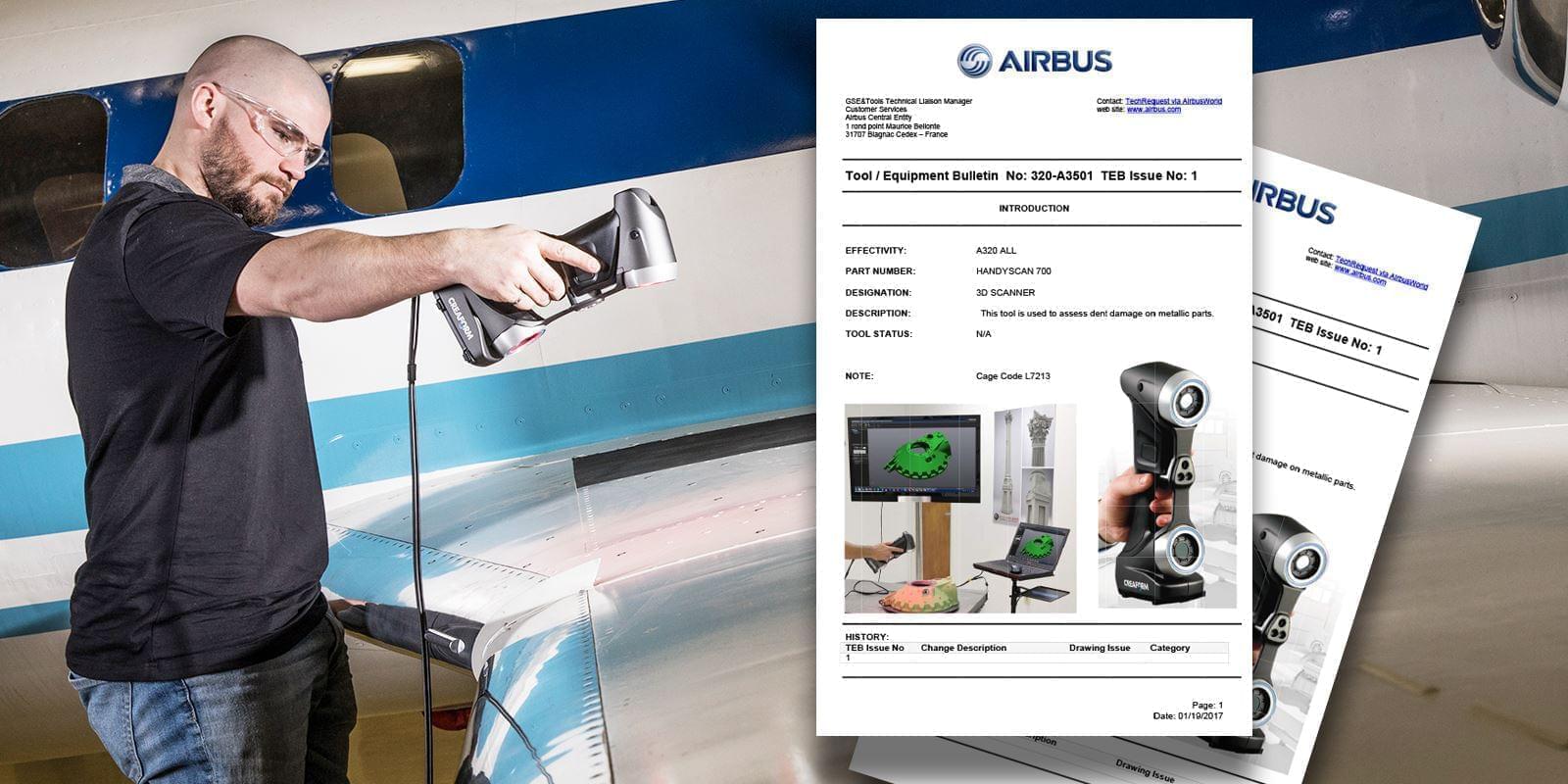 About Creaform
Creaform develops, manufactures, and sells 3D portable measurement technologies and specializes in engineering services. The company offers innovative solutions, such as 3D scanning, reverse engineering, quality control, non-destructive testing, product development, and numerical simulation (FEA/CFD). Its products and services cater to a variety of industries, including automotive, aerospace, consumer products, heavy industries, healthcare, manufacturing, oil and gas, power generation, and research and education.

With headquarters and manufacturing operations in Lévis, Québec, Creaform operates innovation centers in Lévis and Grenoble, France, and has direct sales operations in the United States, France, Germany, Brazil, China, Japan, India, Korea and Singapore. Creaform is a unit of AMETEK Ultra Precision Technologies, a division of AMETEK Inc., a leading global manufacturer of electronic instruments and electromechanical devices, with annual sales of approximately $4.0 billion.