3D SCAN SCANNER WITH COMBINED BRAKE RECTANGULAR FORM Automatic Robot: Robot-Mounted Optical CMM 3D Scanners help speed up the industrial test by implementing 3d, fast 3d-auto-sampling. For companies that want fast, accurate results, Creaform has developed a 3D scanner that combines CMM 3D robots. It's the MetraSCAN 3D ™ R-Series, one of Creaform's MetraSCAN 3D family of products, which enables manufacturing companies to harness the power of optical measurement and industrial automation. Continued on their production line - quality control is easier and more efficient. Combined with industrial robots, the MetraSCAN 3D R-Series increases the reliability, speed, and flexibility of quality control and quality control (QC) on the system.
The MetraSCAN 3D R-Series is an innovative robot solution that can be integrated into factory automation projects and ensures optimum speed, accuracy and measurement performance. highest product. Automated testing solutions are available in Standard and Elite editions
The 3D scanner works with C-Track ™ optical tracking. Users can take advantage of the C-Link ™ functionality by connecting up to four C-Tracks to increase system flexibility.
********
GENERATION OF 3D SCAN SCREEN CONTROL ROBOT AUTOMATIC
********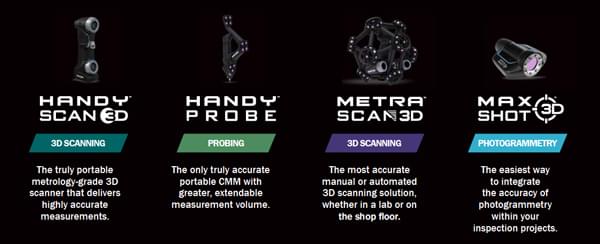 ********
TECHNICAL SPECIFICATIONS
METRASCAN 750-R™
METRASCAN 750-R™​|ELITE
Accuracy (1)
Up to 0.030 mm (0.0012 in.)
Volumetric Accuracy (2)
(based on working volume)
9.1 m3 (320 ft3)
0.086 mm
(0.0034 in.)
0.064 mm
(0.0025 in.)
16.6 m3 (586 ft3)
0.122 mm
(0.0048 in.)
0.078 mm
(0.0031 in.)
Volumetric accuracy with MaxSHOT 3D (3)
MaxSHOT Next™
0.060 mm + 0.025 mm/m
(0.0024 in + 0.0003 in/ft)
0.044 mm + 0.025 mm/m
(0.0017 in + 0.0003 in/ft)
MaxSHOT Next™|Elite
0.060 mm + 0.015 mm/m
(0.0024 in + 0.00018 in/ft)
0.044 mm + 0.015 mm/m
(0.0017 in + 0.00018 in/ft)
Resolution
0.050 mm (0.0020 in.)
Scanning area
275 x 250 mm (10.8 x 9.8 in.)
Stand-off distance
300 mm (11.8 in.)
Depth of field
200 mm (7.9 in.)
Light source
7 laser crosses (+ 1 extra line)
Laser class
2M (eye safe)
Measurement rate
480,000 measurements/s
Weight
Scanner: 1.38 kg (3.0 lbs.)
C-Track: 5.7 kg (12.5 lbs.)
Dimensions (LxWxH)
289 x 235 x 296 mm
(11.4 x 9.3 x 11.7 in.)
Operating temperature range
5–40°C (41–104°F)
Operating humidity range (non-condensing)
10–90%
Certifications
EC Compliance (Electromagnetic Compatibility Directive, Low Voltage Directive, Radio Equipment and Telecommunications Equipment), compatible with rechargeable batteries (when applicable),IP50, WEEE
********
(1) Typical value for diameter measurement on a calibrated sphere artefact.
(2) Based on the ASME B89.4.22 standard. Performance is assessed with traceable length artefacts by measuring these at different locations and orientations within the working volume of the C-Track (value = maximum deviation). Performance of the MetraSCAN 3D R-Series is dependent on the working volume in which the measurement is made: 9.1 m3 (320 ft3) or 16.6 m3 (586 ft3).
********
CHECKING THE DETAILS WITH KUK ROBOT AND METRASCAN R